News Release
Implementation of Biofuel Bunkering for an Oceangoing Vessel at Kobe Port
Asahi Tanker Co., Ltd. (Asahi Tanker; President & CEO: Shigekazu Haruyama; Headquarters: Chiyoda-ku, Tokyo) has conducted a bunkering operation with biofuel for a ship at Kobe Port under an order from Toyota Tsusho Corporation (Toyota Tsusho; President: Ichiro Kashitani;  Head Office: Nagoya, Aichi). In this project, TOKUYOSHI MARU operated by Asahi Tanker supplied biofuel to the dry bulk carrier SUNRISE SERENITY operated by Asahi Kaiun Kaisha, Ltd. This is the first case of our operation in western Japan, including the Hanshin area.
<Bunkering for SUNRISE SERENITY with Marine Biofuel>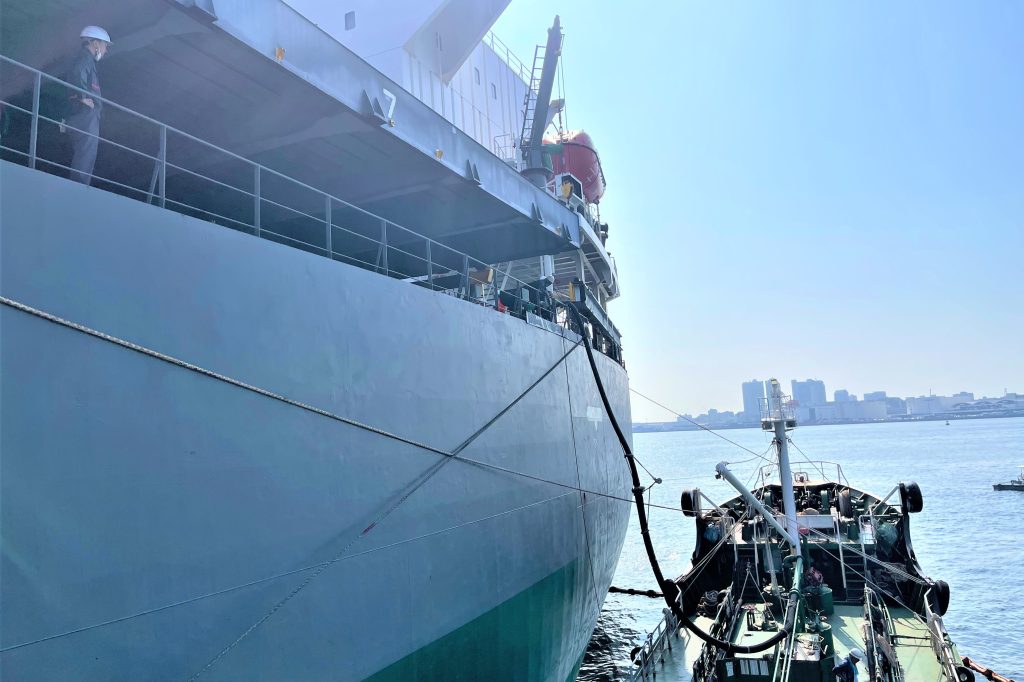 This time, the supplied marine biofuel was a blend of conventional bunker fuel oil and biofuel whose, Toyota Tsusho worked together with Daiseki Eco. Solution Co.Ltd. and refined with a part of waste cooking oil collected from the company cafeteria of Toyota Group and Toyota Tsusho Group companies. By recycling and utilizing waste cooking oil, the initiative is expected to reduce greenhouse gas (GHG) emissions.
We remain committed to addressing various issues in the shipping industry, such as low-carbonization and decarbonization, and delivering highly sustainable services.
【For further information, please contact】
Asahi Tanker Co.,Ltd.
Business Team, Domestic Business Division(E-mail: at071-eigyou@asahi-t.co.jp )
PAGE TOP