Safety
Operation
To safely and stably transport petroleum and chemical products, Asahi Tanker has developed its own safety promotion system, including establishing safety management rules and manuals based on international standards, aiming to develop high-quality fleets.
In May 1994, the company formulated the Asahi Tanker Group Safety Environment. With an organization and system that prioritizes safe operation and environmental conservation, we will continue to fulfill our social mission to move petroleum and chemical products by maritime transportation.

Safety management system (Safety Environment Ship Management Division)
The Safety Environment Ship Management Division promptly responds to accidents and also strengthens the management system, prevents accidents, and raises safety awareness. In addition to day-to-day operation with the transportation divisions, we work hard to strengthen the relationship across the group, including establishing an internal environmental safety committee, a shipowner meeting with each shipowner, and an environmental safety council with each shipping company.
We systematically respond to several issues of safety and ship management, such as securing and developing excellent crews and safety managers, accumulating maritime know-how, and striving to develop next-generation technologies.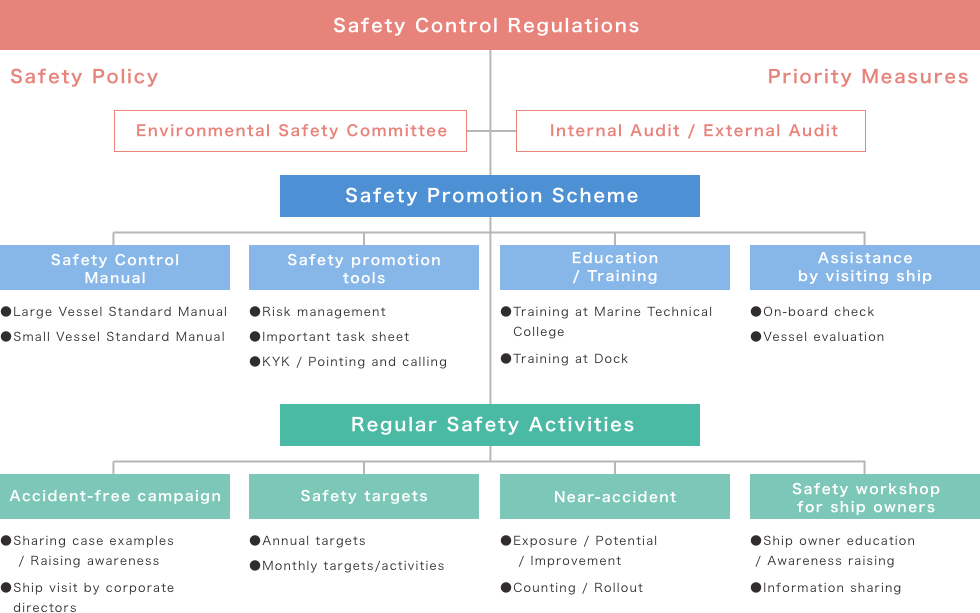 Safety activities
To enhance the effectiveness of the safety management system, we actively communicate with ship owners and crew members, and ensure and raise awareness of safety activities, through special ship visits twice a year in addition to regular ship visits.
Special ship visit campaign
During the dense fog season in Japan (May-July) and busy transport season (year-end and new year), we specially visit ships to conduct an accident-free campaign through cooperation between land and sea, including encouraging and raising awareness of crew members. In addition, the information obtained through ship visits is quickly shared among the company to effectively conduct further safety activities.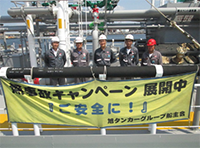 Human resource development prioritizing safety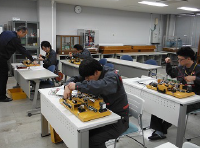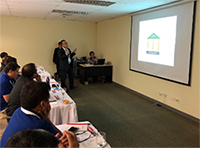 Many accidents are considered to be caused by human error. We believe that both improving human skills and focus on safety training should be given an utmost importance in order to ensure safe voyage, not only for ship crews, but also for onshore operators. Over the decades, in collaboration with the Marine Technical College, an educational institution for seafarers, we have provided multi-levels training on tanker safety technology based on our own curriculum. In addition, we offer a unique program, training to address human error, and to adopt the latest educational technique, such as e-learning. For Filipino crews, who account for about 90% of international shipping crews, we provide our original training every year. We review our training and awareness-raising activities from time to time to ensure safety.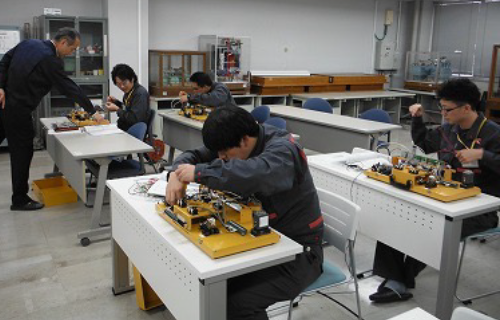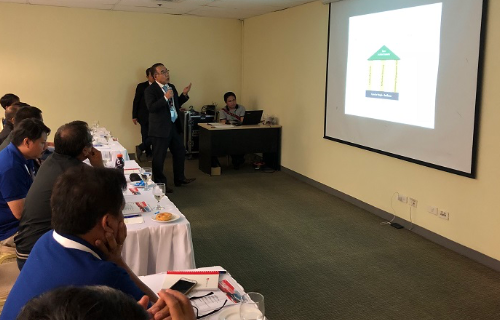 Training in cooperation with Japan Agency of Maritime Education and Training for Seafarers (JMETS) and Maritime Technical College (MTC)
Training course
Subject trainee
Description
Introductory course
All crew members boarding our group's ships for the first time
Environmental recognition
Basic knowledge of deck and engine
Beginner course
Crews aiming to be deck officers
Knowledge and practical training of 6th grade maritime officer level
Crews aiming to be engineers
Knowledge and practical training of 6th grade maritime officer level
Intermediate course
Deck
Basic knowledge of deck and practical training
Engine
Basic knowledge of engine and practical training
Advanced course
Officer
Expert knowledge of deck and practical training
Engineer
Expert knowledge of engine and practical training
Practical training
Deck
Bridge resource management (BRM) training
New initiatives for the safety operation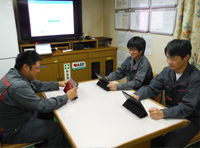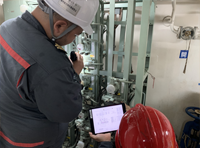 To safely carry out the operations of a shipping company, it is essential for ship crew and onshore operators to share the same safety criteria, updated information, and communicate with each while performing their activities. As a tool to enhance this framework, we started providing tablet terminals to all ship crew from 2021. These terminals enable our employees to hold online meetings between ships and land, in addition to promoting their e-learning. By expanding the opportunities for communication and training, we will develop a system to ensure safe operation.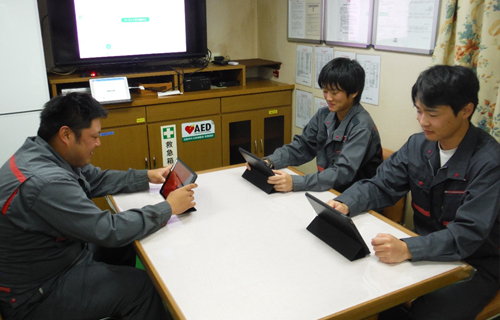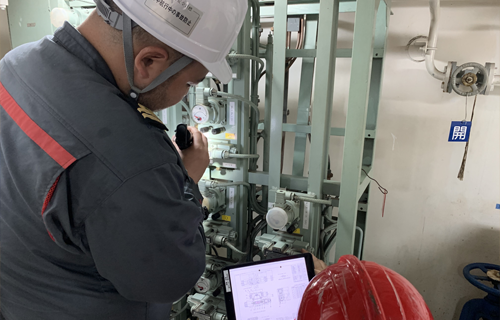 PAGE TOP