Overseas
Business
Quickly responding to diversified and internationalized customer needs in Asia and the world, with a wide range of ship types and outstanding reliability.
We started our overseas transportation in 1975 with oil transportation by the MR tanker "Asahi Maru". Currently, our overseas operation is mainly conducted by three teams: the Ship Management Team that mainly operates Japanese oceangoing vessels between Japan and abroad and foreign countries, and accumulates its own know-how; the Commercial and Operation Team that operates mainly MR and SR tankers in the Asian region; and the Business Management Team that supports joint ventures (JVs) with overseas customers and long-term projects.
Quickly responding to increasingly diversified and internationalized customer needs, providing high-quality transportation services. In addition, as a new service in marine transportation, we have begun to provide not only tankers but also other vessel types to overseas shipping companies.
AKATSUKI MARU(45,955DWT)

SUNNY RAINBOW(12,355DWT)
Overseas Business Expansion
Singapore Office
(ASAHI TANKER(S) PTE. LTD.)
We established our Singapore office as a local subsidiary in 1978.
Currently, in addition to cargo collection and sales support for vessels operated by the head office, the Singapore Office takes care of long-term charter contracts with partner companies, including a major international shipping company, which plays highly important role in the energy and shipping base in Asia and the world.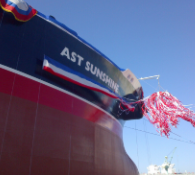 Asahi MOL Tankers Ltd.
In 2019, the Asahi MOL Tankers Ltd. was established, a joint operating company with Mitsui O.S.K. Lines, Ltd. (MOL), and started local pool operation with about 25 vessels. Introducing MR product tankers with excellent versatility and high worldwide demand, operating between Asia/Pacific routes through sale offices is in Tokyo, London, and Singapore, providing high-quality service, and flexibly respond to every customers' needs.
Europe Office
Asahi Tanker Europe Office was established in 2020 after invested to the local company who has handled businesses with multi-purpose-vessels. As a base for new business development, we are aimed to launch eco-businesses with our partner companies.
Fleet List
The list can be slid.

NAME
DWT(MT)
TANK(㎥)
BUILT
TYPE
SLOP(㎥)
AKATSUKI
MARU
45,955.00
50,924.40
2011
CLEAN
PRODUCT
TANKER
1,918.93
AKANE
44,998.00
52,692.33
2009
CLEAN
PRODUCT
TANKER
1,106.50
AOI MARU
49,998.00
52,359.20
2022
CLEAN
PRODUCT
TANKER
1,951.05
S NO778
(TO BE "AYAME")
abt 49,700.00
abt 53,900.00
2022
CLEAN
PRODUCT
TANKER
abt 1,990.00
ETERNAL
SUNSHINE
49,997.00
52,500.00
2019
CLEAN
PRODUCT
TANKER
2,250.00
MORNING
SPARROW
49,997.00
52,496.00
2020
CLEAN
PRODUCT
TANKER
2,250.00
GLORIOUS
SUNSHINE
49,996.00
52,042.50
2020
CLEAN
PRODUCT
TANKER
1,953.10
MORNING
SWAN
79,996.00
86,724.30
2014
CLEAN
PRODUCT
TANKER
2,775.80
SUNNY
QUEEN
6,801.30
7,359.72
2014
CHEMICAL
TANKER
131.45
YN BUSAN
6,596.79
7,559.03
2018
CHEMICAL
TANKER
545.98
CRANE
REGULUS
6,485.51
7,295.75
2015
CHEMICAL
TANKER
693.61

SUNNY DREAM

12,222.00
11,745.65
2009
CHEMICAL
TANKER
1,345.11
SUNNY
ORION
12,203.00
11,741.11
2010
CHEMICAL
TANKER
1,344.44
SUNNY
RAINBOW
12,355.13
12,520.00
2018
CHEMICAL
TANKER
750.00
KOHO MARU
1,787.32
782.30
2013
SULPHER
TANKER
NA
KOKA MARU
3,091.40
1,563.87
2017
SULPHER
TANKER
NA
KOHSENRI
3,102.57
1,562.62
2018
SULPHER
TANKER
NA
AST
SUNSHINE
158,000.00
167,372.00
2013
CRUDE OIL
TANKER
4,847.80
SANMAR
SANGEET
106,516.00
114,411.00
2004
CLEAN
PRODUCT
TANKER
4,323.00
SANMAR
SWARA
74,993.00
82,137.60
2006
CLEAN
PRODUCT
TANKER
2,470.10
NAME
DWT(MT)
CRANES
BUILT
TYPE
HO/HA
SIF W
12,100.00
60t×2 on portside
2018
MULTI-
PURPOSE
VESSEL
2/2
SIGYN W
12,100.00
60t×2 on portside
2018
MULTI-
PURPOSE
VESSEL
2/2
(As of Jun 1, 2022)
PAGE TOP