Domestic
Transportation
With about 120 vessels, widely ranging from small to large, Asahi Tanker, one of Japan's leading fleet operators, meets a variety of customer needs.
Located in Tokyo and Osaka, the domestic operation division is responsible for the marine transportation of domestic petroleum products of oil wholesalers, electric power companies and major trading companies. We operate clean and dirty petroleum oil tankers with capacities ranging from 300 KL(Kilo-Litres) to 7,000KL. We cover the whole area of coastal Japan, fully using the expertise we have accumulated over the years. In addition to operating lubricant vessels, LPG vessels and chemical vessels. We also operate asphalt and coal vessels. We aim to become a specialist carrier with diverse vessel types to meet the needs of every customers.
KYOKUHOU MARU(4,999DWT)

KYOKUKOU MARU(5,491DWT)

KYOKUSEI MARU(4,999DWT)
Transportation of bunker fuels
Top share of domestic market
Since the 1950s, we have had advanced into the transportation of bonded bunkers (bonded fuel oil) for ocean-going vessels, currently holding the top 55% share of the domestic transportation market. Bunker delivery, which is subject to various restrictions depending on the vessel type, loading/discharging status, port and berth management conditions, is a complex and dangerous task. Holding one of the largest fleets in Japan and developing our own reliable safety management system, we had established being on the top share in the domestic market.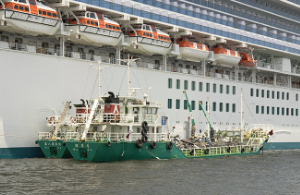 Bid to realize the world's first zero-emission tankers
In FY 2021, we plan to convert our bunker vessel operating in Tokyo Bay to electrically powered vessels (EVs), the world's first ever zero-emission tankers driven by large-capacity batteries. We are working to solve the issues facing maritime shipping, a social infrastructure, in an advanced and innovative manner.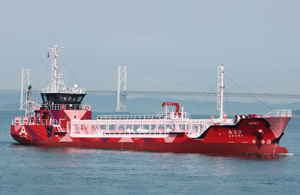 PAGE TOP