News Release
First Ever Bunkering of Marine Biofuel (B24) for Oceangoing Vessel by EV Tanker "Asahi" in Tokyo Bay
Asahi Tanker Co., Ltd. (President&CEO: Shigekazu Haruyama; Headquarters: Chiyoda-ku, Tokyo)  owns and operates the world's first pure battery tanker (EV tanker), ASAHI, and has conducted bunkering for the oceangoing LPG (high-pressure) carrier, BUENA REINA, with marine biofuel (B24). BUENA REINA is chartered by Marubeni Corporation (Marubeni; President&CEO: Masumi Kakinoki; Headquarters: Chiyoda-ku, Tokyo). This project is the first of its kind in Tokyo Bay, the largest port in Japan.
<Bunkering for BUENA REINA, with Marine Biofuel (B24)>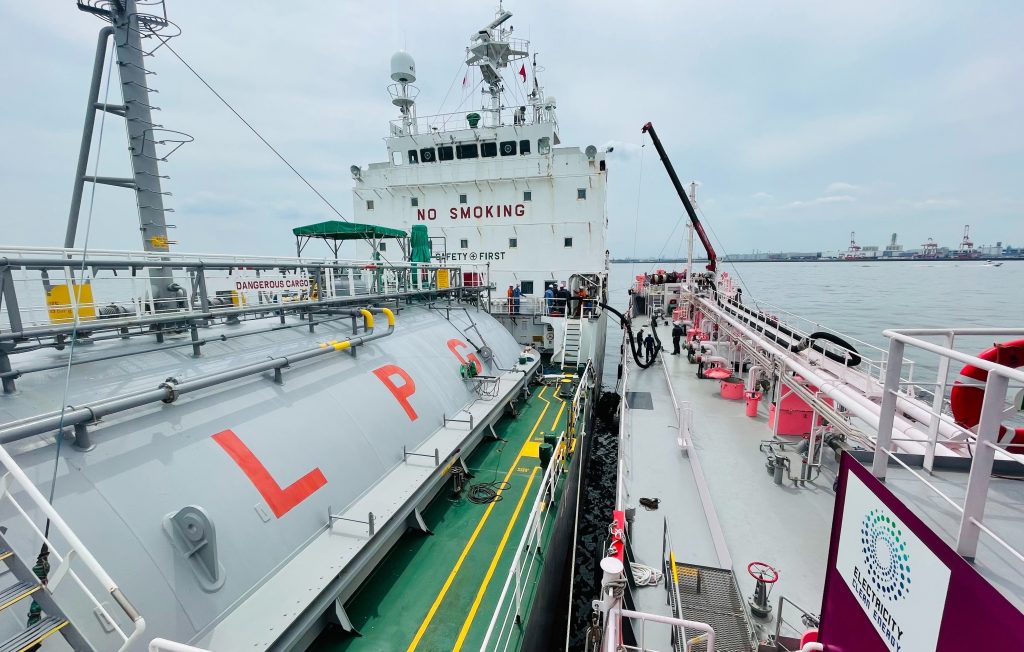 The marine biofuel is a blend of conventional bunker fuel oil (VLSFO) and approximately 24% biofuel. The biofuel is composed of biomass (organic resources derived from living organisms), waste oil, which is a by-product of biodiesel (fatty acid methyl ester, abbreviated as FAME) production from waste cooking oil, and green methanol extracted from by-product gas generated in the wood pulp production process. This is a fully recycled green fuel that emits virtually no CO2. It thoroughly recycles waste oil and utilizes it efficiently, using green methanol instead of fossil resource-derived methanol commonly used in conventional biodiesel production. Bunkering by ASAHI has resulted in zero emissions of greenhouse gases in terms of transportation.
We will continue to collaborate with Marubeni to address various issues in the shipping industry, such as low-carbonization and decarbonization, and provide highly sustainable services.
<Specifications of "ASAHI">
| | |
| --- | --- |
| (1)Dimensions | LOA 62.00m / Breadth 10.30m / Draft 4.70m |
| (2)Ship classification society | Nippon Kaiji Kyokai (ClassNK) |
| (3)Cargo | Fuel oil |
| (4)Gross tonnage | 492 tons |
| (5)Speed | About 10 knots |
| (6)Cargo tank capacity | 1,277m3 |
| (7)Propulsion equipment | Manufactured by Kawasaki Heavy Industry – Kawasaki Battery system |
| | Azimuth thrusters 300kw x 2 |
| | Side thrusters 68kw x 2 |
| (8)Battery capacity | 3,480kwh |
[For further information, please contact]
Asahi Tanker Co.,Ltd.
Business Team, Domestic Business Division(E-mail: at071-eigyou@asahi-t.co.jp)
PAGE TOP