News Release
The World's First EV Tanker "ASAHI": Registration for the J-credit Scheme
Asahi Tanker Co., Ltd. (hereinafter, "Asahi Tanker"), together with Marubeni Corporation (hereinafter, "Marubeni"), worked on a project registration for the J-Credit Scheme*1 to reduce greenhouse gas (hereinafter, "GHG") emissions using the world's first pure battery tanker (EV tanker) "ASAHI" operated by Asahi Tanker, and it was approved by the J-Credit Scheme Certification Committee on March 15.
*1The J-Credit Scheme is designed to certify the amount of greenhouse gas emissions reduced and removed by sinks within Japan.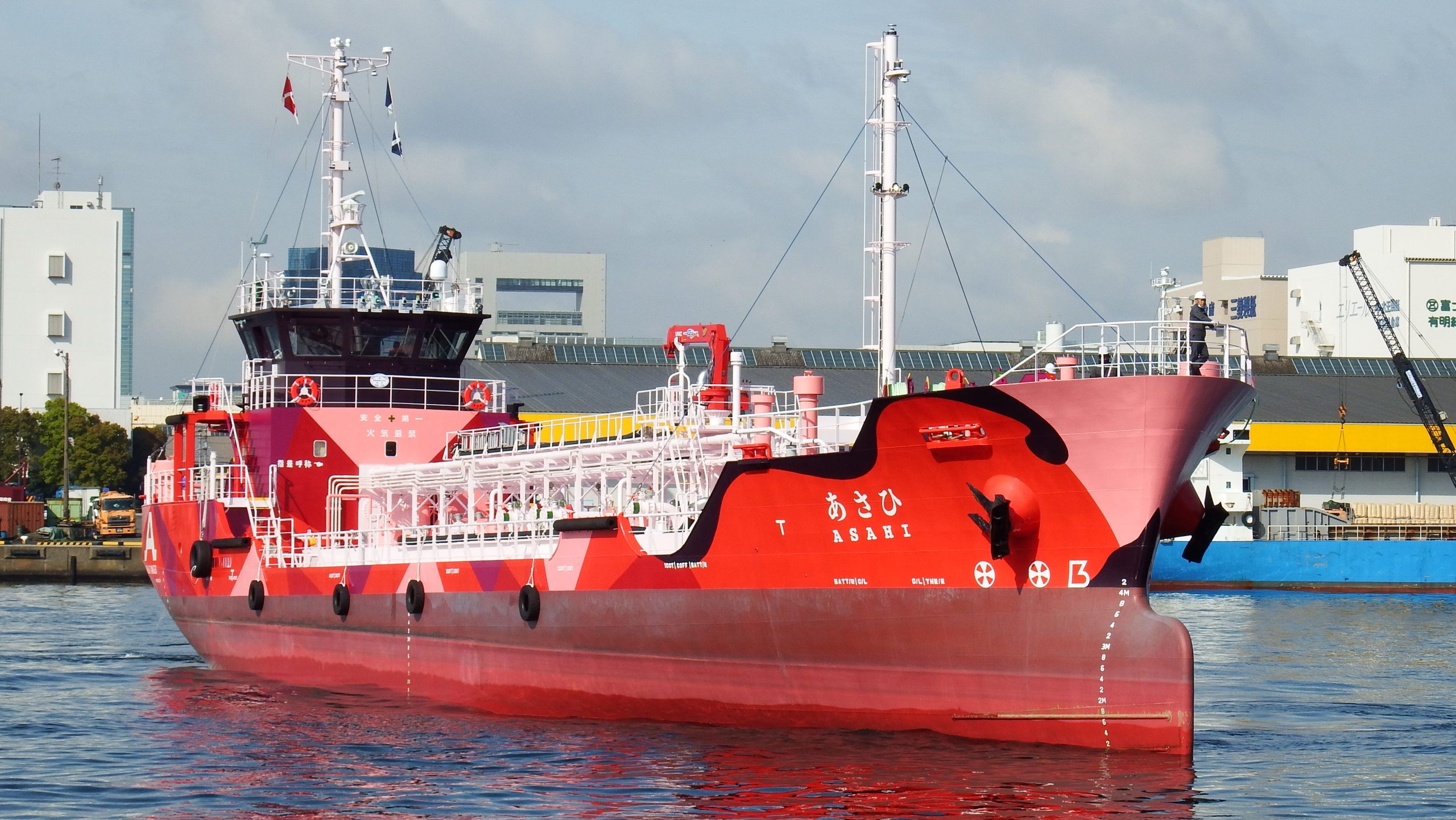 From October 2022, "ASAHI" has been chartered by Marubeni as a bunker barge and is engaged in supplying marine fuel to ships within the Tokyo Bay area. By switching its power source from conventional heavy oil to high-capacity lithium-ion batteries and using renewable energy*2 for the power supply, Marubeni and Asahi Tanker have achieved zero emissions of GHGs such as CO2, NOx (nitrogen oxides), SOx (sulfur oxides), and soot during marine fuel supply.
Asahi Tanker will continue to collaborate with Marubeni and contribute to the reduction of GHG emissions in the shipping industry through this project.
*2Using electricity purchased together with a non-fossil fuel certificate.
<Specifications of "ASAHI">
| | |
| --- | --- |
| (1)Dimensions | LOA 62.00m / Breadth 10.30m / Draft 4.70m |
| (2)Ship classification society | Nippon Kaiji Kyokai (ClassNK) |
| (3)Cargo | Fuel oil |
| (4)Gross tonnage | 492 tons |
| (5)Speed | About 10 knots |
| (6)Cargo tank capacity | 1,277m3 |
| (7)Propulsion equipment | Manufactured by Kawasaki Heavy Industry – Kawasaki Battery system |
| | Azimuth thrusters 300kw x 2 |
| | Side thrusters 68kw x 2 |
| (8)Battery capacity | 3,480kwh |
<Marubeni Overview>
| | |
| --- | --- |
| Company Name | Marubeni Corporation |
| Head Office | 4-2, Ohtemachi 1-chome,Chiyoda-ku, Tokyo 100-8088,Japan |
| President and CEO | Masumi Kakinoki |
| Website | https://www.marubeni.com/en/ |
| Main Business | Marubeni Corporation and its consolidated subsidiaries use their broad business networks, both within Japan and overseas, to conduct importing and exporting (including third country trading), as well as domestic business, encompassing a diverse range of business activities across wide-ranging fields including lifestyle, ICT business & logistics, food, agri business, forest products, chemicals, metals & mineral resources, energy, power, infrastructure project, aerospace & ship, finance, leasing & real estate business, construction, industrial machinery & mobility, next generation business development and next generation corporate development. Additionally, the Marubeni Group offers a variety of services, makes internal and external investments, and is involved in resource development throughout all of the above industries. |
PAGE TOP